Going to the dentist doesn't have to be a chore
We make oral health FUN!
Taking your child to the dentist shouldn't be something you dread. In fact, when little ones actually like coming in for visits, it sets the stage for a lifetime of oral health. At Kids Mile High Pediatric Dentistry, everything we do is focused on creating a positive, fun experience for both kids and parents. Our Denver pediatric dental practice is far from cold and clinical. It's bright, cheerful and there's never a dull moment. Don't be surprised if Dr. Paddy challenges your kiddo to a round of golf on the in-office putting green or Dr. Roger breaks out the lacrosse sticks.
While we don't take ourselves too seriously, we are serious about the health of your child's smile. We specialize in preventative dentistry to keep little mouths happy and healthy and when treatment is necessary, we use cutting-edge technology like needle-free, painless laser dentistry to get the job done quickly and comfortably. Our board-certified pediatric dentists Dr. Paddy and Dr. Roger treat every child as if they were their own and make sure that parents feel informed and educated.
With three, convenient locations and a full range of pediatric dental and orthodontic services, we can be by your child's side during their smile journey all the way from birth through adolescence. When you visit Kids Mile High, you'll never look at going to the dentist the same again!
Full range of pediatric dental services
Friendly, experienced team
A focus on preventative care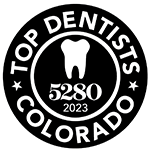 Dr. A. Patrick Smithwick, fondly known as Dr. Paddy, and Dr. Roger Castro, known as Dr. Roger, are board-certified pediatric dentists. (Fun fact: They were actually friends in dental school!) We recently welcomed pediatric dentist Dr. Meredith (Dr. Meredith Ghivizzani). The trio offer a full range of pediatric dental services and orthodontic treatment to kids and teens. They are all about providing exceptional care and making the experience positive and fun to encourage a lifetime of awesome oral health.
What Our Patients Are Saying
Dr. Paddy and the entire office staff are helpful and communicative. Every question I've had has been thoroughly and thoughtfully answered. My 2 year old has had major oral surgery and is still happy to go to the office; it really is kid friendly.

Laura
Dr. Paddy and his staff do a fantastic job of making my kids feel comfortable and at ease when we visit his office. My daughter is always asking me "when can we go see Dr. Paddy" because she has such a good time going to his office. Having my kids dentist be board certified makes me feel confident that I'm getting the best care possible for my kids.

Eric
Dr. Paddy is incredibly kind and I would highly recommend him to anyone. Our daughter had such a lovely experience that she asks to visit the doctor whenever we are near his office. Truly top notch- we couldn't be happier with the care given to our daughter.

Jennifer
Choosing "Kids Mile High Pediatric Dentistry" for the dental treatment of my seven years old son, is the best decision I ever made. Dr. Paddy is the kindest and most professional pediatric dentist I've seen, and I have taken my son to many dentists before, including Children's hospital.

Maklau
Dr. Paddy and the Kids Mile High Staff were excellent! Dr. Paddy was so professional in relating to my kids and to me as a parent. We recently relocated to the Denver area, and my 5 and 3 year old were seen for their first check-ups. It was by far the best pediatric dental experience we've had.

Whitney
Such a great place to take your child for a check up. The staff is friendly and really take care of you, and are so great with kids! It was my daughter's first dentist visit and she loved it!!! I'm happy we found the this place.

Elena
Dr. Paddy and all the staff are about as accommodating, polite and helpful as possible. Exceptional care and consideration of children and an environment which keeps young kids feeling like the dentist is fun. Great bedside manner during procedures and excellent and transparent diagnoses and procedures.

David