We Offer Complimentary Second Opinions!
Feeling uncertain about your child's dental diagnosis or proposed treatment plan? Kids Mile High Pediatric Dentistry is here to help! Our Englewood, Thornton and Denver pediatric dentists offer complimentary second opinions.
When you visit Kids Mile High for a second opinion, you'll:
Benefit from cutting-edge technology and diagnostics
Receive gentle, super friendly care
Be in good hands since we specialize in treating children, including those with special needs
Get the expert opinion of an award-winning kids' dentist (we've been voted Top Dentists by 5280 Magazine three years running!)
Feel informed and confident about your treatment decisions
Get your complimentary second opinion today!
Full range of pediatric dental services
Friendly, experienced team
A focus on preventative care
Your Child's Smile is Important
A healthy smile gives kids confidence and helps them with everything from chewing to speaking. So, of course, you want the best for your little one's grin. If you're overwhelmed and unsure about a dental diagnosis or treatment plan for your child, our Denver pediatric dentists have you covered with complimentary, no-obligation second opinions. We think everyone should feel completely comfortable when it comes to their child's dental care.
When you visit us at our bright, fun pediatric dental office, you'll sit down with Dr. Paddy or Dr. Roger. They'll examine your child, review their x-rays and chat with you about your questions and concerns. They'll then present you with their opinion and walk you through their findings.
Whether you move forward with us or not, you'll have all of the information you need to make the best decision for your child. If you do decide to get treatment at Kids Mile High, you'll gain peace of mind knowing we use the latest technology and techniques to restore your child's smile quickly and painlessly.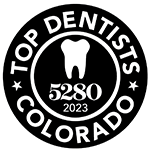 Dr. A. Patrick Smithwick, fondly known as Dr. Paddy, and Dr. Roger Castro, known as Dr. Roger, are board-certified pediatric dentists. (Fun fact: They were actually friends in dental school!) We recently welcomed pediatric dentist Dr. Meredith (Dr. Meredith Ghivizzani) to round out the team. The trio offer a full range of pediatric dental services and orthodontic treatment to kids and teens. They are all about providing exceptional care and making the experience positive and fun to encourage a lifetime of awesome oral health.
Schedule Your Child's Complimentary Second Opinion Today!
What Our Patients Are Saying
Dr. Paddy and his staff at Kid's Mile High Pediatric Dentistry are amazing at what they do! Dr. Paddy identified some significant dental work that my daughter needed that was verified by a second opinion. From her cleaning to being put under anesthesia to perform the work needed, this staff worked hard to put these scared parents and our daughter at ease. Everything was completed successfully by him and his team, and I appreciate how honest and transparent this staff was about the procedures and costs involved! Dr. Paddy even called us that evening to follow up to ensure she was doing okay!

Joshua
Dr. Paddy and the entire office staff are helpful and communicative. Every question I've had has been thoroughly and thoughtfully answered. My 2 year old has had major oral surgery and is still happy to go to the office; it really is kid friendly.

Laura
Dr. Paddy and his staff do a fantastic job of making my kids feel comfortable and at ease when we visit his office. My daughter is always asking me "when can we go see Dr. Paddy" because she has such a good time going to his office. Having my kids dentist be board certified makes me feel confident that I'm getting the best care possible for my kids.

Eric
Dr. Paddy is incredibly kind and I would highly recommend him to anyone. Our daughter had such a lovely experience that she asks to visit the doctor whenever we are near his office. Truly top notch- we couldn't be happier with the care given to our daughter.

Jennifer
Choosing "Kids Mile High Pediatric Dentistry" for the dental treatment of my seven years old son, is the best decision I ever made. Dr. Paddy is the kindest and most professional pediatric dentist I've seen, and I have taken my son to many dentists before, including Children's hospital.

Maklau
Dr. Paddy and the Kids Mile High Staff were excellent! Dr. Paddy was so professional in relating to my kids and to me as a parent. We recently relocated to the Denver area, and my 5 and 3 year old were seen for their first check-ups. It was by far the best pediatric dental experience we've had.

Whitney
Such a great place to take your child for a check up. The staff is friendly and really take care of you, and are so great with kids! It was my daughter's first dentist visit and she loved it!!! I'm happy we found the this place.

Elena
Dr. Paddy and all the staff are about as accommodating, polite and helpful as possible. Exceptional care and consideration of children and an environment which keeps young kids feeling like the dentist is fun. Great bedside manner during procedures and excellent and transparent diagnoses and procedures.

David