Free First Dental Exam for Kids Under 36 Months
Did you know the American Academy of Pediatric Dentistry recommends little ones have their first dental exam by age one? This is because cavities can occur as soon as the first tooth makes its debut. At Kids Mile High Pediatric Dentistry, our Denver pediatric dentists are big believers in the power of preventative care. That's why the first dental exam for kiddos under 36 months is on the house! When you visit us for a free first dental exam, you'll:
Love that our bright, welcoming offices are super kid-friendly and fun!
Feel relaxed knowing our board-certified pediatric dentists are trained in treating children, including those with special needs.
Determine if your baby's oral development is on the right track.
Learn exactly how to best care for your child's smile at home.
Book a free first exam today!
Full range of pediatric dental services
Friendly, experienced team
A focus on preventative care
Give Your Child's Smile the TLC it Deserves
A child's first dental exam gives your little one the opportunity to get used to the sights and sounds of the dental office, lets us determine if their development is on track and allows us to fill you in on everything you need to know about caring for your child's teeth and gums. It's also a chance to get answers on anything from thumb sucking to the ideal toothpaste to use for babies. These early visits are a cornerstone of your kiddo's preventative care, which is why our Denver pediatric dentists are offering free first dental exams for little ones under 36 months of age.
Our bright offices are designed especially for kids (huge fish tanks and an in-office putting green, anyone?) and our caring team is trained in behavioral techniques to help children feel safe and comfortable. Your child will sit on your lap during their first exam while Dr. Paddy or Dr. Roger quickly and gently takes a look at their teeth and gums. They'll then spend as much time as you need answering questions and educating you on excellent oral hygiene. Our mission at Kids Mile High Pediatric Dentistry is to ensure going to the dentist is a positive experience for kids and parents alike!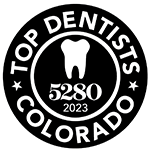 Dr. A. Patrick Smithwick, fondly known as Dr. Paddy, and Dr. Roger Castro, known as Dr. Roger, are board-certified pediatric dentists. (Fun fact: They were actually friends in dental school!) We recently welcomed pediatric dentist Dr. Meredith (Dr. Meredith Ghivizzani) to round out the team. The trio offer a full range of pediatric dental services and orthodontic treatment to kids and teens. They are all about providing exceptional care and making the experience positive and fun to encourage a lifetime of awesome oral health.
Book a free first exam today!
What Our Patients Are Saying
Dr. Paddy and his staff at Kid's Mile High Pediatric Dentistry are amazing at what they do! Dr. Paddy identified some significant dental work that my daughter needed that was verified by a second opinion. From her cleaning to being put under anesthesia to perform the work needed, this staff worked hard to put these scared parents and our daughter at ease. Everything was completed successfully by him and his team, and I appreciate how honest and transparent this staff was about the procedures and costs involved! Dr. Paddy even called us that evening to follow up to ensure she was doing okay!

Joshua
Dr. Paddy and the entire office staff are helpful and communicative. Every question I've had has been thoroughly and thoughtfully answered. My 2 year old has had major oral surgery and is still happy to go to the office; it really is kid friendly.

Laura
Dr. Paddy and his staff do a fantastic job of making my kids feel comfortable and at ease when we visit his office. My daughter is always asking me "when can we go see Dr. Paddy" because she has such a good time going to his office. Having my kids dentist be board certified makes me feel confident that I'm getting the best care possible for my kids.

Eric
Dr. Paddy is incredibly kind and I would highly recommend him to anyone. Our daughter had such a lovely experience that she asks to visit the doctor whenever we are near his office. Truly top notch- we couldn't be happier with the care given to our daughter.

Jennifer
Choosing "Kids Mile High Pediatric Dentistry" for the dental treatment of my seven years old son, is the best decision I ever made. Dr. Paddy is the kindest and most professional pediatric dentist I've seen, and I have taken my son to many dentists before, including Children's hospital.

Maklau
Dr. Paddy and the Kids Mile High Staff were excellent! Dr. Paddy was so professional in relating to my kids and to me as a parent. We recently relocated to the Denver area, and my 5 and 3 year old were seen for their first check-ups. It was by far the best pediatric dental experience we've had.

Whitney
Such a great place to take your child for a check up. The staff is friendly and really take care of you, and are so great with kids! It was my daughter's first dentist visit and she loved it!!! I'm happy we found the this place.

Elena
Dr. Paddy and all the staff are about as accommodating, polite and helpful as possible. Exceptional care and consideration of children and an environment which keeps young kids feeling like the dentist is fun. Great bedside manner during procedures and excellent and transparent diagnoses and procedures.

David