Book An Appointment For Your Child Today!
WHAT OUR PATIENTS SAY ABOUT US
Dr. Paddy and the entire office staff are helpful and communicative. Every question I've had has been thoroughly and thoughtfully answered. My 2 year old has had major oral surgery and is still happy to go to the office; it really is kid friendly.

Laura
Dr. Paddy and his staff do a fantastic job of making my kids feel comfortable and at ease when we visit his office. My daughter is always asking me "when can we go see Dr. Paddy" because she has such a good time going to his office. Having my kids dentist be board certified makes me feel confident that I'm getting the best care possible for my kids.

Eric
Dr. Paddy is incredibly kind and I would highly recommend him to anyone. Our daughter had such a lovely experience that she asks to visit the doctor whenever we are near his office. Truly top notch- we couldn't be happier with the care given to our daughter.

Jennifer
Choosing "Kids Mile High Pediatric Dentistry" for the dental treatment of my seven years old son, is the best decision I ever made. Dr. Paddy is the kindest and most professional pediatric dentist I've seen, and I have taken my son to many dentists before, including Children's hospital.

Maklau
Dr. Paddy and the Kids Mile High Staff were excellent! Dr. Paddy was so professional in relating to my kids and to me as a parent. We recently relocated to the Denver area, and my 5 and 3 year old were seen for their first check-ups. It was by far the best pediatric dental experience we've had.

Whitney
Such a great place to take your child for a check up. The staff is friendly and really take care of you, and are so great with kids! It was my daughter's first dentist visit and she loved it!!! I'm happy we found the this place.

Elena
Dr. Paddy and all the staff are about as accommodating, polite and helpful as possible. Exceptional care and consideration of children and an environment which keeps young kids feeling like the dentist is fun. Great bedside manner during procedures and excellent and transparent diagnoses and procedures.

David
WHY OUR PATIENTS LOVE THEIR DENVER PEDIATRIC DENTISTS
What if a visit to the dentist was like going on a fun field trip? That's what dental care is like at Kids Mile High Pediatric Dentistry. From our colorful offices, to our mini putting green, to high fives all-around, we're all about making good oral hygiene a highlight for kids. We treat all our patients with attentive, gentle care and use innovative technology that makes dental care quick, comfortable, and safe.
Does your child also need orthodontics? We've got you covered! Enjoy the same kid-friendly service you get from dentists Dr. Paddy, Dr. Roger, and Dr. Meredith! Whether braces or Invisalign, we help kids and teens achieve their straightest smiles in a way that makes the time just fly by!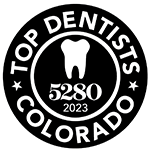 Full range of pediatric dental services
You're in luck at Kids Mile High — we're your Central Park, Denver-area kids dentist with dental care and orthodontics under one roof. Super convenient! From dental cleaning to check-ins for braces, we're your one-stop shop for pediatric oral care.
A focus on preventative care
"No cavities!" That's the best news to get at the end of a check up. We specialize in preventive dentistry to help keep mouths healthy and happy. That's why we're your choice for a kids' dentist in Denver.
Friendly, experienced team
Friendly and professional. That's how our patients describe us. From the admin staff that greets you to the clinical team that works with our doctors to keep your kiddos' smiles healthy, our patients are in expert hands.
Not to brag (ok, maybe just a little), but it's no wonder we received the coveted "Best Dentist in Colorado" for 2021. We bend over backwards to make pediatric dental care a happy event with exceptional outcomes.
Ultimate convenience! You can find us at three different locations in Denver
Book An Appointment With A Dentist Your Kids Will Love